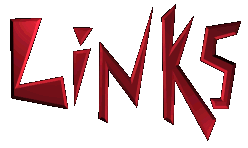 Space Quest and Space Quest Related Links!

Domen Novak's Space Quest Page! New!
The Janitor's Closet! New!
Roger Wilco in the Unofficial Web Page! New!
Jake Guilbo's Space Quest page! NEW!
The Space Quest Compost!
World-O-Wonders!
StarCon 3000, sister page of the StarCon Database!
The StarCon Database, now dedicated to files alone!
Scumsoft HQ
Golden Mop Society of Xenon: Roger Wilco Memorial
SierraWeb's Space Quest message forum, Janitorial Times.
AstroChickenWeb
Go to SierraWeb if you feel like it... they're the publishers BTW.
Roger Wilco's Virtual Broom Closet
The Space Quest Network
Roger's Space Adventures
The Webpage of a Hero
Seventh Issue! Popular Janitronics Online
Ryan's Game Page Has Space Quest solutions.
Space Quest Chat at Popular Janitronics Online Still in it's early stages.
Troels Pleimert's Space Quest Site: Wilco's Domain... This site is a must visit for any SQ fan, because Troels is the guy who gives pretty much all of the SQ Webmasters most of their info... plus, he's just an all-round swell guy.
Sludge Vohaul's Space Quest Page

Space Quest Central!
Roger Wilco's Space Quest Page
bigfan's Home Page

If you know of any Space Quest or Space Quest related sites that I do not have listed here, please tell me at wilcoweb@geocities.com.



Thank You.




Fun 'n' Games!
Hero's Tale Inn... a verily spiffy Quest For Glory page!
Wee! Sierra Universe!
THE ROLAND MT-32 SOUND MODULE RESOURCE CENTER... a great site for MIDIs, including a buncha Sierra MIDIs!
Xaiver's Kings Quest Page... the best KQ site I've seen so far!
MercWorld, a verily good site if you like MechWarrior 2: Mercenaries.
The Official They Might Be Giants Web Site... Yeah!
The Presidents Of The United States Of America Internet Fun Pad!
Lord Soth's Games on the Internet (frames off with this link) A great site for demos, cheats, walk-throughs, and all that nifty stuff.
Kersplat's Sam and Max Page. This page has some sounds from the game, some comic strip samples, links, and the official rules of Fizzball!
The Adventures of Dank and Scud, a Quake comic!
Rubik's Cube Java Applet
The Mysterious World of MISSED! A parody of MYST.
The OTHERSIDE(tm) Mission Control. A really rockin' place in Lynnwood, WA.
HoverRace! An 8-player Internet game for Windows 95... Currently in beta, then it'll be shareware.
SubSpace, an asteroids-like Internet game in which you are pitted against other players... pretty fun, actually.



Homepage Links!
My Home Page Not really that much to see.
Kersplat's Home Page... my friend's homepage, it's pretty neat.